I was lucky enough to attend the Paper Towns Q&A with John Green. John Green is an amazing author, he has written several books of the young adult fiction genre, two of which have made it to the big screen; The Fault In Our Stars (2014) and Paper Towns (2015). The Fault In Our stars was a hugely successful film, the book was great and so was the film (i recommend both).
I haven't read Paper Towns (yet) but as soon as I heard there was going to be another film based on a John Green book I knew it was going to be amazing. I had planned on reading the book prior to attending the Q&A, but life got in the way, so I did a little research and read up on what the book is about.
The Q&A Experience
I arrived at the venue, Leicester square odeon (obviously), the queue for the event was incredibly long going right around the corner of the venue. I was seated in the large cinema screen with a projection on the screen reading 'Paper Towns – tweet your questions for John Green @UKPaperTowns using #AskPaperTowns not only did every seat have a bottle of water everyone also received a free 'The Fault In Our Stars' book, although i have already got the book this was still very exciting.
After a short while the presenters, Dan and Phil, introduced John Green and the audience went crazy.
I was already excited that I could attend such an event but then the best thing happened, we got to watch an exclusive 20 minute preview from the film.
I was excited just by the trailer alone, now that I have watched the short preview i am overly excited. Cara Delevingne's acting is so good and believable and the American accent was extremely authentic , when asked how she prepared for the role Cara said that she kept in character throughout the whole duration of filming, American accent and everything!
Although they pretty much tweeted everything from @UKPaperTowns, here is a few things i learnt from the first part of the Q&A:
John Green did the 'Catfish' thing when he was a teen (you'll know when you see it)
he doest envision faces of his characters when writing
Whilst filming The Fault In Our Stars (2014) he knew he wanted Nat Wolff to play the character Quentin in Paper Towns. (Nat Wolff starred in The Fault In Our Stars)
Some of his favourite parts of filming Paper Towns was during the road trip scenes
If he ran away, only leaving clues to be found, he would leave word games for his wife that only they understood
He doesn't plan on writing any sequels to any of his books, although he had briefly thought about writing a sequel for The Fault In Our Stars
He tries to be honest when writing, not creating a cliché happy ending but something more real
After answering a few questions, John Green was then asked a question about Nat Wolff's character in which he responded something along the lines of "Maybe he should answer that question himself" and then Nat Wolff comes out of nowhere (we where told it was a Q&A with John Green only) how exciting!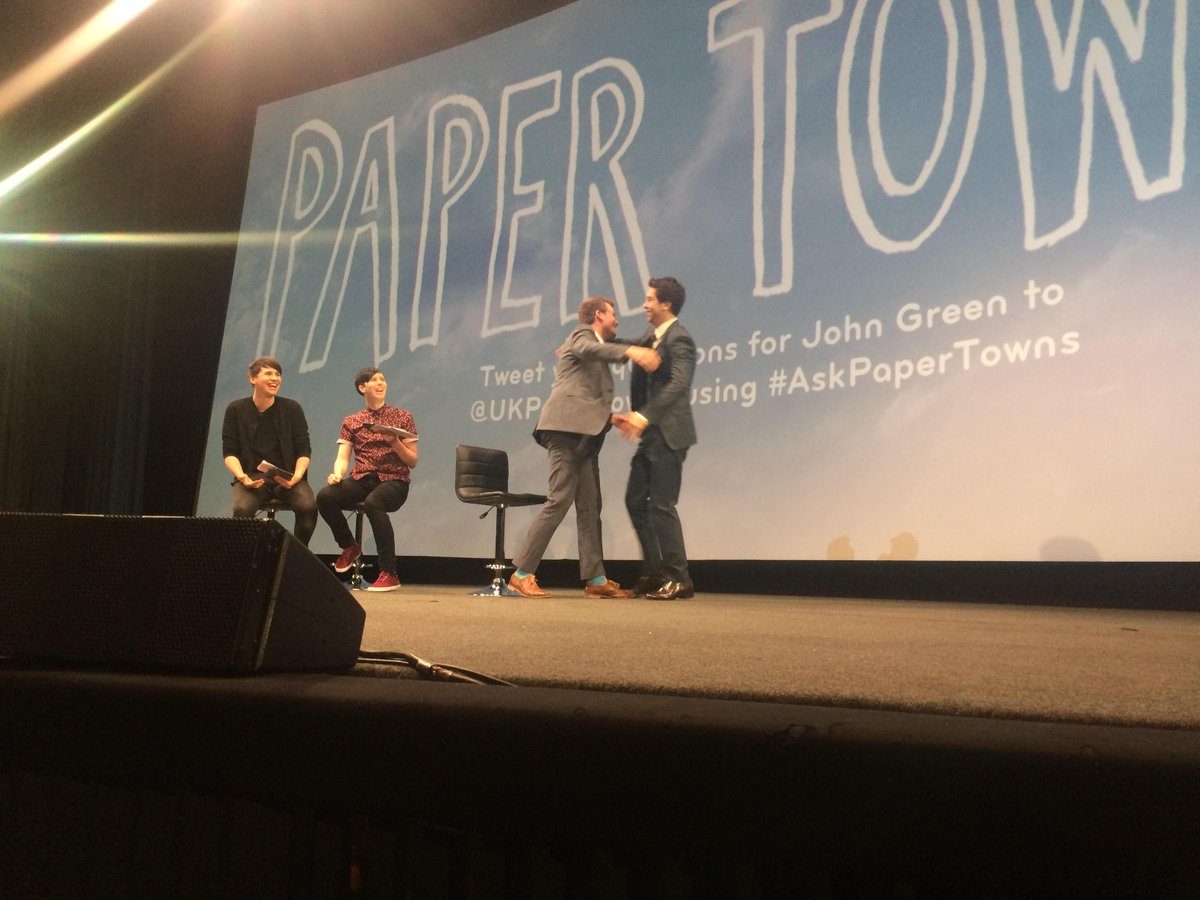 Here are a few things said in the second part of the Q&A with John Green and Nat Wolff:
Nat Wolff read Paper Towns and said it was his favourite out of all of John Green's books
Nat said that he related to both Quentin and Margot
Nat was a part of the Paper Towns film process before there was even a script
Nat got his drivers license just before he started filming Paper Towns solely because he had to drive in the film, his driving was so bad everyone made fun of him
John Green made a cameo in Paper Towns
Cara Delevingne asked John and Nat a question, via video message, and she asked them to answer the question in a British accent which was hilarious (see below)
After the video, Cara came out onto the stage, again the audience went crazy, we got a lot more than what we had expected. Just watching there friendship on stage and the way they would talk to each other made the film so much more interesting, they really gave the audience a real insight as to what it was like being a part of the Paper Towns film.
Here are a few things said in the last part of the Q&A with John Green, Nat Wolff and Cara Delevingne:
Cara said that if she was to run away, like her character, she wouldn't tell anyone
Nate said that filming Paper Towns taught him how to appreciate the things and people around him. Whilst filming, he felt like he returned to his former innocent and naive self, which he misses after they stopped filming.
John Green said if Margot was his daughter in real life, he would be proud of her
Cara said that if Margot was her friend in real life, she would like her but she would also want to give her a reality check
Overall, the Q&A was amazing, it has given me a new insight and understanding of the film and the book and even John Green. Be sure to check out the trailer for Paper Towns here if and GO see the film in cinemas UK wide from August 21st